Applied Geometric Representation and Computation
(CS 7380, Special Topics in Graphics/Image Processing, 2010F)
Page Contents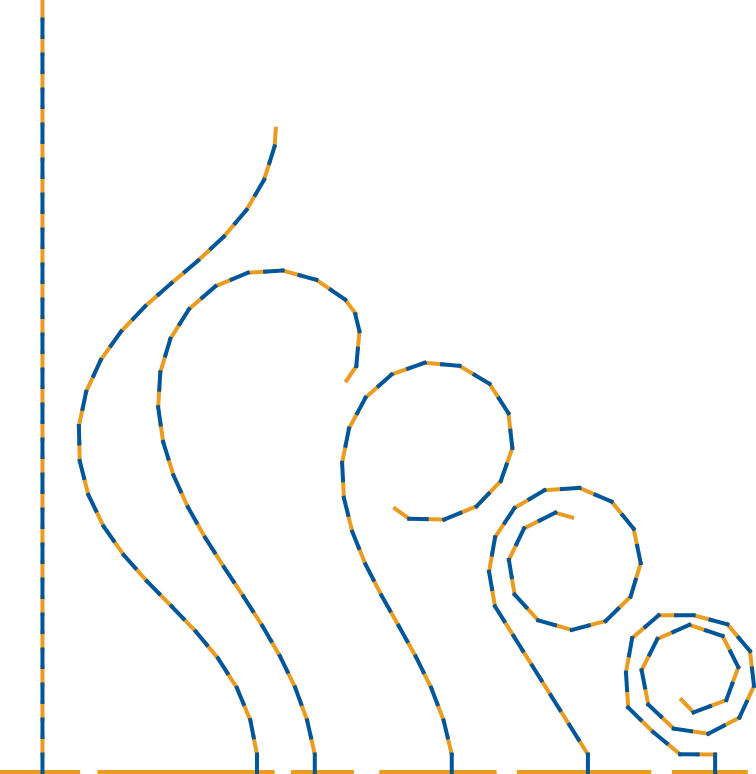 kinematic chain simulation
(in collaboration with Carrick Detweiler)
This is the homepage for the 2010 Fall offering of CS 7380, a topics course at the College of Computer and Information Science at Northeastern University.
Course Content
The topic this term will be applied geometric representation and computation.
The course will survey practical techniques for representing geometric objects in two and three dimensions, for computing their motions and interactions, and for human interfaces to manipulate them. These techniques are useful not only in graphics, but also in robotics, computer vision, game design, geographic information systems, computer-aided design and manufacturing, spatial reasoning and planning, physical simulation, biomechanics, and the implementation of many types of human-computer interface.
Participation of Ph.D., M.S., and advanced undergraduates from a broad range of backgrounds is encouraged. No prior coursework in graphics or geometry is required. The course will require only basic skills in multivariable calculus, linear algebra, algorithm analysis, and programming. More details on prerequisites are given below.
We will break the term into a set of one- and two-week units on different subtopics. To some extent, the focus of each unit and and the amount of time spent on it will be determined by the interests of the enrolled students. Units will be selected from at least the following:
Course Structure and Grading
This will primarily be a reading course. For each topic we will read a selection of top research papers from the literature. Each paper will be presented by the professor or by students followed by round-table discussion. Required background material will also be presented by the professor.
In the first part of the term there will be 2—4 homework assignments that will span both analytical work and coding. In the second part of the term, each student will either write a term paper on a related topic of their choosing or develop a software project (possibly working in pairs). There will be no quizzes or exams. Grading will be based on your class participation (including presentation of at least one paper), homeworks, and your final paper or project.
The basic parameters of the course are summarized below. All of the information on this website is subject to change—hit the "reload" button when viewing each page to be sure you see the newest revision, and not an old version that might have been cached by your browser. The timestamp of the revision you're viewing is always shown at the bottom of the page.
Instructor
For more information about the course, feel free to contact the instructor Marsette Vona.
Email: vona@ccs.neu.edu
Office: 248 WVH
Office Hours: 12—1pm Wednesdays, 2—3pm Thursdays
Meeting Time and Place
310 Hurtig Hall 012 Snell Library, 11:45am–1:25pm Tu/Fri
Readings
There will be no specific textbook. Individual readings from the research literature will be assigned each week on the course schedule.
Prerequisites
No specific prior experience with geometric computation is required for this course. We will cover each topic from the ground up. However, in order to participate,
you should be competent in multivariable calculus and linear algebra,

you should be able to analyze algorithms, and

you should know how to design and debug programs in an environment of your choice.
Please contact the instructor if you would like to take the course but are unsure if you meet these requirements.
This is a graduate-level course; participation from advanced undergraduates is also encouraged with permission from the instructor and the department.